15 May
by Jacalyn Buettner DC
With A Guided Blood Sugar Support and Detox Program
As our body is exposed to a daily influx of toxins from the air we breathe, the food we consume, and the beauty and cleaning products we use, it is essential to give our body a break by doing a detox. A detox is a process of eliminating harmful toxins from our body to promote better health and well-being. In this blog, we will be discussing what is a detox and why one should do it, along with an overview of our 10-Day Detox and Blood Sugar Support Program.
Everyone is so stressed. Your adrenals regulate your blood sugar. Essentially you'll be giving your adrenals a rest. In general, we eat too many carbs and sugar. Then your blood sugar spikes and plummets. That is what your adrenal glands are regulating and is a stress on your hormonal system. This is in addition to the normal stress we have in life. To give your body a break and regain your energy, lower the toll everyday life has on your body, consider starting a 10-day program like this.
With our 10-Day program, you will have amazing support.
When doing a detox and blood sugar program, we recommend doing so with support including scientifically based supplements, a whole food protocol, and accountability. We offer you whole-food nutrition and supplements including those that subside cravings and give you all the nutrients you need in a day plus a food program that will help you reshape your life.
For example, the SP Cleanse supplement in our program will support your liver detoxification. The liver is like the oil filter in your car. But in your body, your liver breaks down and detoxifies the toxins. Unlike an oil change, you don't replace your liver. However, you can do a cleanse that can help the liver to function better.
What is a detox?
A detox is a short-term dietary intervention that incorporates specific foods or juices to help cleanse the body of toxins. These toxins include substances such as pesticides, artificial flavors, medications, and preservatives, which accumulate in our bodies over time and can cause an array of health problems.
Why do a detox?
One of the primary reasons to do a detox is to support liver function, which is responsible for breaking down toxins in our body. With modern-day lifestyle habits, our liver is continually pressurized to deal with stress, environmental toxins, and poor diet choices, ultimately causing sluggishness and fatigue. A detox can restore balance by giving your liver some much-needed rest.
Detoxification can also provide other benefits, such as weight loss, clearer skin, and improved digestive function. By removing the harmful toxins from the body, you can start afresh and introduce healthier eating habits into your lifestyle.
Most of my patients notice increased energy when doing this 10-day program. This process takes the burden off the liver and digestive system.
Join us and you will:
Sleep

better

Increase your

energy

Break sugar & carb addictions

Get rid of chronic pain

Jumpstart your

metabolism

Brighten and cleanse your skin

Detoxify

your gut

Lose weight

THRIVE

and

feel

VITAL!!
Overview of the 10-Day Detox & Blood Sugar Support Program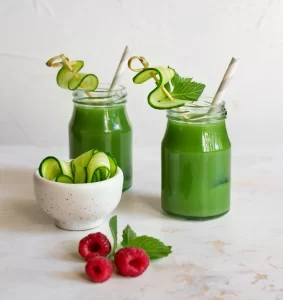 When embarking on a detox, it's crucial to plan ahead and be mindful of what you consume during the period. A 10-day detox would involve the following:
Eliminate processed and refined foods and incorporate organic vegetables, fruits, and whole grains. Cut down on sugar, carbs, caffeine, and alcohol.
Nutritional supplementation to support toxin release and nutrients that your body needs for optimal function.
Recipes to make eating healthy delicious
Drink plenty of water and herbal teas to keep hydrated.
Incorporate foods that help detoxify such as turmeric, ginger, garlic, leafy greens, lemons, and berries.
Reduce stress by engaging in mindful activities like yoga and meditation.
Detox programs involve a combination of eating whole foods, drinking beneficial smoothies or juices, and eliminating potentially allergenic foods. It will help you adopt healthier dietary habits.
A detox is a great way to jumpstart your journey to wellness and promote better health. By removing harmful toxins from your body and incorporating healthy dietary habits, you can restore balance and enjoy a more energized and vibrant life.
Important: If you're interested in doing a detox, you want to do it safely.
The Easiest and Safest Way to Do a Detox
Most people don't know how to do a detox SAFELY and make it easy.
In our 10-day detox program, you will be hand-held through the process. We provide you with specific guidelines, recipes, and supplements that make it easy.
Here's what's included:
Kickoff Video with Dr. Jacalyn Buettner
10-day Detox and blood sugar support handbook
Scientifically based supplement kit
Healthy Easy Recipes
Daily Email with more guidance and support
It's a no-brainer way to start on this journey to better health
10-Day Detox Kit ($179 +tax (and shipping if applicable))
Step-by-step guidance, daily emails, supplements, recipes, and more.
Hear what others have to say about the 10-Day Experience:
"I had never done a detox before. Now I know it will be a regular part of my lifestyle. When I participated, I was at the highest weight I had been since turning 50, felt low energy, and bloated all the time. My eating habits were a little out of control and I knew I needed to change things. My body needed a healthy reset! I found everything I was looking for with Dr. Jackie's Detox. I lost 5 pounds, had a significant reduction in belly bloat, my energy levels skyrocketed, and I felt really good again. Thank you."

–Alison S.
"Dr. Jackie and her detox program are absolutely life-changing! I said what the heck and joined Dr. Jacky and an amazing group of women looking to get on a healthier track, lose that menopause weight, and just overall feel better! I'm just 10 days, I lost 10 lbs., my belly bloat was significantly reduced and I had more energy than I have in a long time! Dr. Jacky took the time to listen to my concerns and goals and developed a personalized plan just for me. The weekly meeting calls with Dr. Jackie, her daily inspiration, and words of wisdom as well made a difference. I was blessed with a support team cheering each other on with Dr. Jacky as our leader to better health. After the initial program, Dr. Jackie and I discussed my follow up and this program has been life-changing! Give it a try! You are worth it!"
-Debbie M.